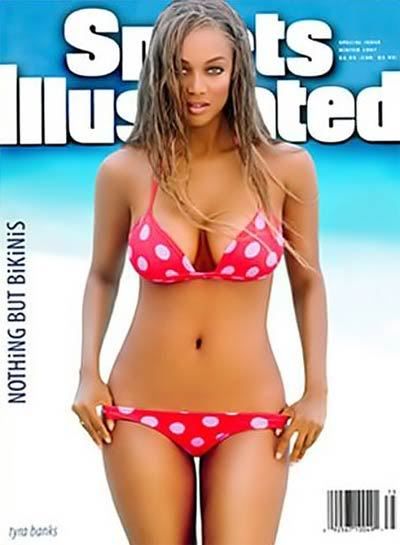 Can you tell which of the above is the original and which is the redo? Bet you can't!
Tyra Banks was the first African American to ever be on the cover of the Sports Illustrated Swimsuit issue so to celebrate Black History month she decided to re-do the famous shoot. And by "celebrate Black History month" I mean "celebrate herself." Five years ago I was in love with this woman, and now all I want to do is punch her in the throat. That's an awful lot of Photoshop for someone who supposedly embraces their body and preaches that appearance doesn't matter. Christ, it's like somebody drew her on using the original cover as a reference. The only way it could look any more processed is if they replaced her with a picture of Garfield.
Some videos of Tyra Banks talking about how great she is and preparing for the photo shoot after the jump.
Videos @
videos.humourbox.info